Blake Griffin Throws Water on a Fan After Fouling Out. Blake Griffin has apologized for accidentally dousing a Golden State fan with water after fouling out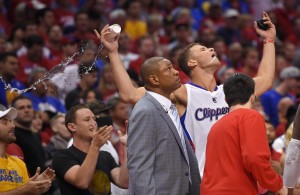 of the first-round playoff game on Saturday. As he approached the sidelines he picked up a cup of water and then through his hands up in disgust, soaking the Warriors fan sitting in the line of fire.

After the game Griffin said that he didn't mean to rain on the fan's celebration. He told reporters, "I heard him say something. I didn't know exactly
what I did. The cup wasn't full. If I did spill water on him, I apologize." Will Meldman was the victim of Griffin's water tossing and said, "Honestly, I think it fell out of his hand," and although he's pretty sure he didn't do it intentionally, the was initially a little irritated as we can see in the video.

Over all Griffin was very frustrated because he fouled out so he probably wasn't even paying any attention to the guy. Either ways, check out the video: