Dead Grandmother Tries To Communicate Through A 'Selfie'.
A Romanian woman believes that her deceased grandmother has tried to contact her beyond the grave.
Did she see an apparition or have a dream that her grandmother was in? No it's a little bit different than your average ghostly encounter.
Gina Mihai, 34, believes that her grandmother has tried to contact her via a selfie that randomly appeared on her phone.
The 34-year-old says that she found a picture of her dead grandmother on her phone and believes that she is trying to reach out for help, or at least that's what a fortune teller has told her. The fortune teller also says that her grandmother is being punished "in the other life."
Many people have gathered in churched in Scurtesti, which is in the south-eastern part of Romania, to pray for Mrs. Mihai.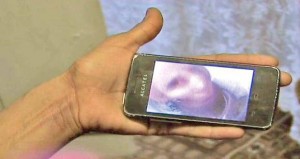 When I switched the phone on I was horrified to see my dead grandmother's face," Mihai said. "She had what looked like a snake around her neck, and the whole image looked as if it had been taken through a hole, like it was shot through a tear in the fabric that separates the living from the dead. I took it to a fortune teller who told me that my grandmother was sending me a message from the other side, the snake around her neck was a symbol of the fact that she was being punished in the other life for some sin."
Mihai also believes that she may be partly to blame for her grandmother's suffering in the next life. She has not taken food to her grave, which is a traditional tribute paid during the Romanian feast of the service of alms.