Have You Ever Wanted To See Two Kangaroos Box…Here You Go.
If you looked out your window and saw two kangaroos boxing, what would you do? I'm sure most people would probably call animal control and stay inside to avoid getting hit by one of those powerful kicks.
Luckily though one resident in this neighborhood did the exact opposite thing. He decided to whip out his camera, sit back, and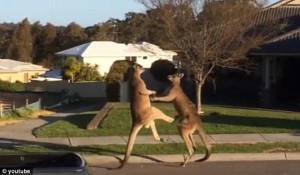 enjoy the free boxing match.
The video was set to the seemingly appropriate music of Tchailkovsky. It almost looks as though the two are dancing in some type of choreography.
Either way though I think that most of us have wondered what two kangaroos boxing actually looks like, so thanks to who ever settled my childhood curiosity.
Apparently this type of behavior is displayed by males fighting over a female or in self defense.
Watch the video below and share it with your friends: