France Passes Law That Requires Plants Be On Every Rooftop.
It's not a stretch to say that industrialized society doesn't usually think about the environment or how to conserve it's natural resources while still maintaining a first world lifestyle.
Well it seems that France is one of the first to move in the direction of integrating nature into an urban setting.
On Thursday France approved a law that requires the rooftops of all new building in the commercial zones of the city must be either partially covered by plants or by solar panels.
These green roofs have many benefits for the building as well as the city. They help insulate the building, which reduces the amount of energy to heat and cool the building.
The plants also retain rainwater which helps reduce problems with runoff and also helps with biodiversity by giving birds a place to nest throughout the city.
Initially French environmentalists were pushing to make it so the roofs on new buildings had to be covered entirely with plants.
The law that was passed by parliament, however, was limited by only requiring a partial covering of the plants on buildings.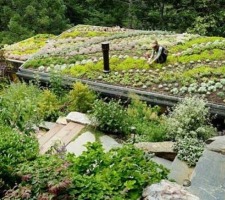 This was due to the Socialist government convincing the activists to limit the scope of the law. They also convinced them to give businesses a choice to put solar panels instead to generate electricity.
Either way this is a step in the right direction for the city of France. Green roofs are also popular in other countries like Germany and Australia. Toronto also adopted a by-law in 2009 which made them mandatory in industrial and residential buildings.