The Girl In The Closet, The Most Horrific Case Of Child Abuse. The Video Below Is The Saddest Case I Have Ever Seen! Lauren was rescued from a filthy, lice infested closet where police say she had spent 6 years locked away from her mother, stepfather and five siblings.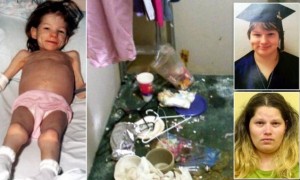 She only weighed 25 pounds and her stomach was bloated due to malnutrition and her eyes were sunken in.
Police said Lauren spent much of her time and a 4 x 8′ closet littered with human waste and soiled clothing. When found, she was naked and emaciated. Lauren survived years of starvation, solitude and sexual torture. She was forced to eat wood from the door, defecate in bread bags and lay in urine drenched carpet. At age 8, she is a foot smaller than a child her age, with the communication skills of a three-year-old. Lauren was taken to children's medical center in Dallas after undergoing surgery where she was noted in serious but stable condition. There were five other children in the home ages 22 months to 11 years which were placed in temporary foster care. The police said they did not appear to be malnourished. CLICK HERE —> TO LIKE DAILY BUZZ LIVE ON FACEBOOK!