Justin Bieber and Selena Gomez Dirty Dance. Justin Bieber and Selena Gomez had themselves a private dance at Texas Auction Dance Studio. In this video Justin posted on his Instagram, he and Selena get their groove on to John Legend's 'Ordinary People' with some dirty dancing.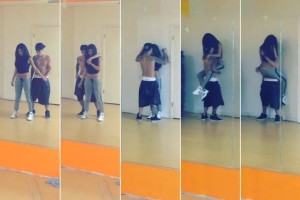 They look really close and definitely in to each other. You want to tell me they're just friends now?
The strange thing is, JBizzle decided to delete the video just hours later. Did he decide it was too private? Did Selena not want their special moments shared?
Either way, we are glad to have seen it when we did. This was way too good to miss!