Mother Brings Baby Back To Life 2 Hrs After Being Pronounced Dead.
It was a final chance to say goodbye for grieving mother Kate Ogg after doctors give up hope of saving her premature baby. She cheerfully told her lifeless son, who was born at 20 weeks gestation, weighing only 2 pounds, how much she loved him and cuddled him tightly not wanting to let go. Although little Jamie's twin sister Emily had been delivered successfully, doctors had Ogg the news all mothers read. After 20 minutes of battling to get her son to breathe, they had declared him dead.
Ogg unwrapped the baby from his blanket and held him against her skin. And then an extraordinary thing happened. After 2 hours of being hugged, touched and spoken to by his mother the little boy begin showing signs of life. At first, it was just a gasp of air that was dismissed by the doctors as a reflex action. But then the startled mother fed him a little breast milk on her finger and he started breathing normally.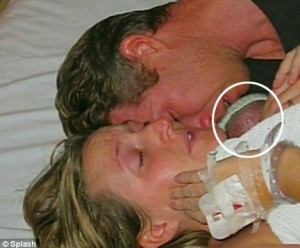 "I thought, Oh my god, what is going on said Ogg. A short time later he opened his eyes. It was a miracle. Then he held out his hand and grab my finger. He opened his eyes and move his head from side to side. The doctor kept shaking his head head saying, 'I don't believe it, I don't believe it'."
Ogg and her husband David told how doctors gave up on saving their son after a 3 hour labor in a Sydney hospital. The doctor asked me if we had a name for our son, I said Jamie and he turned around with my son already wrapped up and said "wW have lost Jamie, he did not make it sorry". It was the worst feeling I've ever felt. I unwrapped Jamie from his blanket. He was very limp.
Ogg held her son, now 5 months old and fully recovered, as she spoke on the Australian TV show Today Tonight. Her husband added, "Luckily I've got a very strong, very smart wife. She instinctively did what she did. If she had not done that Jamie probably would not be here."
CLICK HERE —> TO LIKE DAILY BUZZ LIVE ON FACEBOOK!