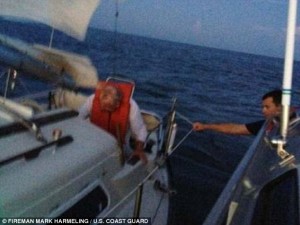 See Why This Couple Was Stranded Out To Sea For A Whole Week Without Food Or Water. Getting stuck out at sea doesn't sound like a great way to spend an entire week, but that's what ended up happening to Bogdan and Elizabeth Makowski. They planed a one-to two-day boating trip out in the Gulf of Mexico and that's when Murphy's Law kicked in. Everything that could go wrong did go wrong.

At first the sailboat's engine went out, which didn't worry Bogdan so he kept on sailing. "I don't care about this because I am a sailor," he said to WTSP. The next thing that happened however, did worry the captain a little bit. The boat's mast jammed their sail which made it useless and since the weather was good, they weren't even floating in the right direction. They had no means to call anyone for help after this happened and to top it all off they didn't bring much food and little water. This even ran out after the first day.

The two were stuck out at sea for a week and then a storm rolled in. "My engine was broken, and I had no wind and now a storm," said Bogdan. "We roped together and slept together like 25 years ago." Finally on Labor Day
Weekend the two caught a break. A friend called the U.S. Coast Guard on August 26 and crews spotted the couple 10 miles offshore in the early morning of the 30th. The boat was badly beat up, but the two seemed in good spirits.

"They were very relieved to see us, very excited, but they were actually in good shape," said Ryan O'Hare, Coast Guard. "They were moving around. They were in good spirits. The only thing they requested is a nice cool bottle of water."