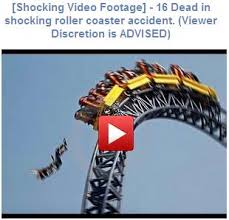 '18 Dead On Roller Coaster' Facebook Scam. all Facebook users should be cautious of clicking on this post. The post that is circulating shows a link to a video of a "shocking roller coaster accident" in which 18 people plummeted to their death. Scammers are trying to lure users to their website and trick them into installing a rogue Facebook app. Many users click on these links without giving it a second thought. Facebook has applied some measures that should help reduce the number of scams that are going to your news feed. However, there are so many scams out there on social networks that the task of eliminating them has been very difficult. Security expert Graham Cluley has spotted this scam that has been making its way through Facebook. The post reads "Shocking video footage 18 dead in shocking roller coaster accident." Another variant states, "16 people are confirmed dead in a roller coaster accident that occurred at Universal Studios in Florida. Currently there are eight listed in critical condition at an Orlando hospital."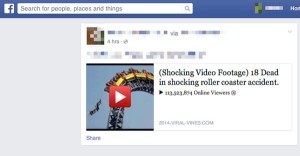 When users click on the link to see this shocking video, they are not taken to the video, but to a page where they are required to install an application called FOX NEWS (version 1.2). The application requests access to the Facebook users profile, email address, and friends list. Once you agree to this access the scammers will randomly post on the victim's Facebook wall and spread bogus posts that lead their friends to the website.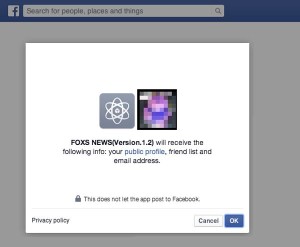 In the end, there is no video. The video does not exist. The goal is to lure Facebook users to websites to steal their private information. Some of the sites will have surveys, while others are designed to trick you into giving over your personal information or subscribe to premium mobile services that will end up leaving you with a large phone bill. If you have already clicked on this roller coaster scam, you should immediately uninstall the FOX NEWS application from the apps tab. You should also delete the fake post from your timeline and warn your friends about the scheme.