An Alarm Clock That Runs Away From You So You Can't Snooze?!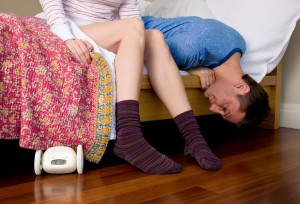 If you're anything like me then you probably have a hard time getting out of bed in the morning. I know I find myself hitting the snooze button over and over again.
Well the people at Nanda Home might just be on to something.
They have created a motorized alarm clock called Clocky. It will let you hit the snooze button once, but after that it will drive off of your nightstand and keep running away until you catch it and turn it off.
This is brilliant for people like myself who are infamous for hitting the snooze button.
It's good for falls up to about a meter, but don't put anything in front of Clocky because it will defiantly knock it off of your nightstand too.