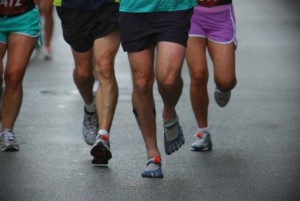 'Barefoot Running' Shoe Company Settles Million Dollar Lawsuit. So we've all seen them, those weird toe shoes, or "barefoot running" shoes that we all second glance at in the gym. Hopefully we are thinking to ourselves, "Why did they buy those?" If you didn't think that though and actually got a pair you may be entitled to some cash.

Vibram, which is the company behind FiveFingers shoes, has settled a $3.75 million class action suit over their claims that the running shoe provides health benefits to runners. The shoes themselves are thin soled and very flexible. They had cost about $100 a pair and are supposed to mimic the experience of running barefooted. They claimed that the faux barefoot running would actually "improve foot health." This is an unsupported claim that the company falsely advertised that lead to the lawsuit that was first filed back in March 2012. The creator of the suit, Valerie Bezdek, claimed that Vibram deployed deceptive marketing and falsely advertised many claims that had no scientific backing. These claims included: The shoe strengthens muscles in the feet and lower legs, improves range of motion in the ankles, feet and toes, stimulates neural function important to balance and agility, eliminates heel lift to align the spine and improve posture, and allows the foot and body to move naturally. Experts say that barefoot running may actually have a negative impact on foot health. A position statement from the American Podiatric Medicine Association reads, "Barefoot running has been touted as improving strength and balance, while promoting a more natural running style. However, risks of barefoot running include a lack of protection, which may lead to injuries such as puncture wounds, and increased stress on the lower extremities."

Class action members that purchased their shoes from FiveFingers after March 2009 can submit a claim form to receive a partial refund of up to $94 per pair. Another part of this settlement bars Vibram from making future claims about the health benefits of it's shoes as well. This is a good example of not ever taking anything at face value. Always research and verify something is actually good for you before deciding to jump right in.