Drug Dealer Gets Busted For Taking a Selfie. In the world of selfies and social media it's only a matter of time before something like this happens. Actually, I'm sure it happens all the time. A Florida drug dealer named Taylor Harrison thought it was too easy to sell drugs in the town of Port St. Lucie, so he decided to post a selfie with stacks of cash and drugs, and then post a photo of a Martin County Sheriff's Office patrol car that pulled up next to him.

The 21-year-olds posts caught the attention of MCSO deputies that then sent a undercover officer to buy drugs from Harrison. Of course he took the bait and sold the officer drugs and they busted him. He is now facing a charge of selling narcotics and is currently being held in Martin County Jail on a $55,000 bond. Since Harrison kept posting pictures of them on his social media, the Martin county Sheriff's Office decided to return the favor. Check it out: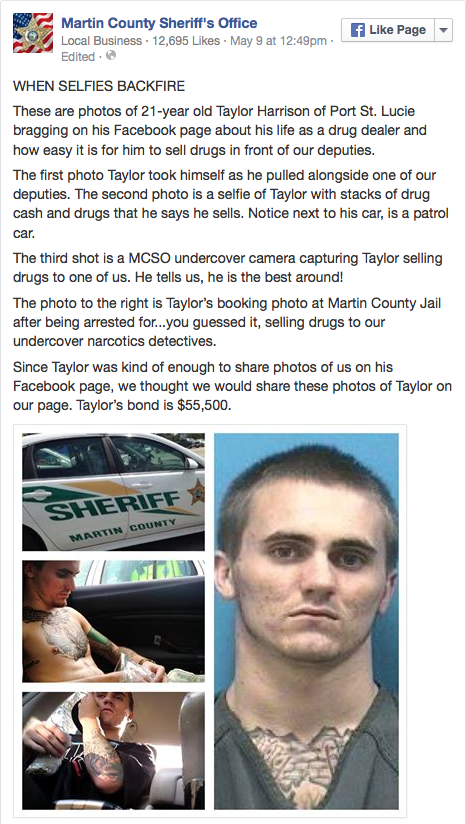 Like I said earlier I'm sure this happens all the time. Harrison is defiantly not the first alleged criminal to be arrested after posting a selfie. In December, Dupree Johnson, 19, was arrested in Palm Beach County, Florida after a sheriff found his Instagram feed and saw countless pictures of guns, drugs and jewelry. They eventually investigated the man and charged him with 142 felony counts.