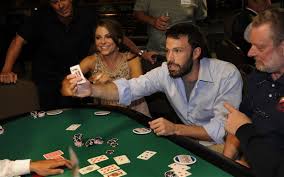 Ben Affleck Barred From Las Vegas Hard Rock Tables For Counting Cards. when in Las Vegas been Affleck has always been known for his love of the tables. But this time he has been banned from a Las Vegas casino for allegedly being caught counting cards. The 41-year-old actor was at the high roller table at the hard rock casino in Las Vegas, close to the Las Vegas strip. On Tuesday he was confronted allegedly counting cards. Staff are said to have accused him of these tactics because he was playing "too good", which is not illegal but it is grounds for being banned.
the father of three was in Las Vegas on vacation with his wife, Jennifer Garner, although she was not with him at the time. Security told him, "you are too good at the game." The hotel was said to be very nice to him and told him he could go play another game. He is not completely banned from the hotel, just from playing blackjack. The hotel staff ended up getting him a car to get him and his wife back to their hotel. Affleck was barred from playing blackjack shortly after 10 PM "due to moving his money with the count." A rep for the hard rock Hotel made a statement on Friday, "Mr. Affleck is a valued guest of the hard rock Hotel and Casino. He is not banned from our property and is welcome back at any time." 
sources state that athletic "uses perfect basic", an industry term for card counting, "but also takes insurance according to the account." They also added, "uses black $100 cheques to keep tract of the account while playing." radar reports that an alert was sent out to all surrounding casinos in Las Vegas the following day declaring that Affleck was "currently suspected of advantage play." The alleged ban comes again after Affleck was previously warned on April 22 after he was suspected of using a similar strategy.