Share The Knowledge!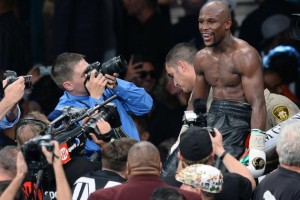 Boxing fans trampled in stampede after Mayweather fight. Saturday night boxing fans left the arena in a state of panic immediately after the Floyd Mayweather title fight with Marcos Maidana. Thousands of spectators were fleeing the venue while dozens were crushed inside by a stampede. Mayweather beats Maidana on points, as many thought Maidana obviously won the fight. Many of the fans began arguing over this and conflict broke out. A wall fell down shortly afterwards, an incident which witnesses claimed sounded like a gunshot.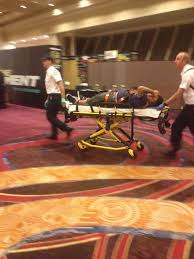 Eric Poleski, chief for the Clark County fire Department, said the 24 people were taken to Las Vegas hospitals after the panicked crowd stormed out of the front doors of the MGM Grand Garden Arena. The injured people ranged in age from young children to older adults. One young fan was rushed to the local children's hospital in an ambulance. Richard Schaefer, CEO of Golden Boy Productions said, "If anything happened I'm sure that will be addressed with MGM security. The MGM is well equipped at hosting the biggest fights on a regular basis so I'm surprised to hear that so many people were injured."
Witnesses say that after the bang, fans flooded out of the arena's front doors and into a narrow walkway leading to the casino. With no room to move and nowhere to go, many were crushed against the side walls and into glass doors that shattered under the weight of the crowd. The bang was caused by a temporary wall that fell down. That, along with an angry crowd and panic, created this mayhem. Amid the panic, the hotel photographer Carlos stated, "Some guy jumps over my table and hits me on the head. There were of couple ladies on the floor next to me. It was chaos,"
Share The Knowledge!