Child Rapist Served Justice In Prison As He Is Violated By 20 Inmates.
Jujitsu Professor Daryell Dickson Menezes Xavier brutally beat and assaulted his one-year-old step-son in a suburb of Brasilia, Taguatinga.
He eventually turned himself in, with the help of his lawyer, and was held in prison for 30 days. During his 30 day incarceration, Daryell became the center of attention. The inmates were interested in vigilante justice. Daryell was violated by 20 prisoners.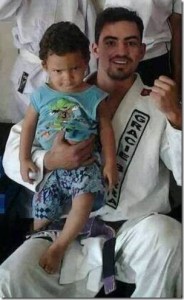 He received injuries over his entire body, with the most serious injury in the anal region. Prior to entering the prison, medics applied stitches all over the abusers back.
After the prisoners assaulted him, they ripped apart the stitches that he had received, and violated him again. The blood stands on his shorts are proof of how much he suffered.
Some are shouting that this is uncivilized behavior. Others believe he deserves everything he received in prison. And most people think it wasn't enough.
This one-year-old little boy will have to suffer for the rest of his life. He will not know what it is to feel safe. He will live his life in doubt and insecurity.
There is no justice in this world that will correct the harm that has been done to him.