Dead Brazilian Comes Back From The Dead, Starts Moving In Morgue Bag. Everyone had thought Valdelucio Goncalves, 54, was dead after he had a heart attack. Well his brother nearly died shortly after from a different kind of heart attack after finding his brother, who was supposedly dead, very much alive and well in a body bag.
The doctors in Salvador, Brazil pronounced Goncalves dead after he had reparatory and multiple organ failure, according to the Daily Mail. Hearing this news, his family made arrangements for the funeral later that day. Goncalves' brother, Walterio, went into the morgue to dress the body when something very strange happened. He noticed that the morgue bag was rising and falling as if Goncalves' chest was moving. "As I got closer I could see it wriggling. Then I saw it raising and falling as if he was breathing," Walterio said. "I went crazy and shouted for the medical team, the nurse, so they could see what was happening. They checked him and confirmed that he was still alive."
The staff quickly rushed to get him out of the bag that he was in. The Menandro de Farias Hospital is not investigating what happened and why the doctors pronounced the man dead. Goncalves, who can't yet speak, wrote a letter in which he said that he was brought back by a Brazilian saint, "I, Valdelucio, saw death at my feet, but my faith was so great that I was cured. Before Irma Dulce I said, do a miracle in me, and she heard my prayer. I saw my mother telling me, son, hold onto her and you will be saved."
The family had already bought a coffin and made the deposit on the funeral, but are more than relieved that Goncalves is alive and well. His niece, Patricia Cintra, says that her prayers have been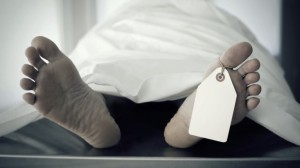 answered, finding out about Goncalves being alive. He was diagnosed with terminal cancer three months before the heart attack.