Dewitos – Doritos Flavored Mountain Dew Is Here – Would You Drink It?
The combination of Mountain Dew and your favorite cheesy Doritos chips may sound a bit strange at first. So strange that most people didn't even believe it.
But PepsiCo has confirmed in a report that it is experimenting with a Mountain Dew flavor that incorporates the nacho cheese flavored chip.
In a statement provided to USA Today network and other news organizations, a Mountain Dew spokesperson said, "We are always testing out new flavors of Mountain Dew, and giving our fans a voice in helping decide on the next new product has always been important to us. We opened up the DEW flavor vault and gave students a chance to try this Doritos inspired flavor as part of a small program at colleges and universities."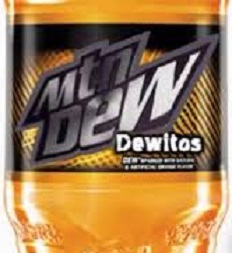 They have not decided yet whether Dewitos will move forward and be sold in stores. So, how does it taste? One Reddit user, Kent State, who broke the news said, "It honestly wasn't that disgusting."
Another taste tester said, "It kind of taste like you're drinking creamy nacho cheese."
I guess we will just have to wait to see if it hits store shelves. If it does, will you try it?