Don't Miss Woogie Weekend, The Founders of Lightning in a Bottle's New Brain Child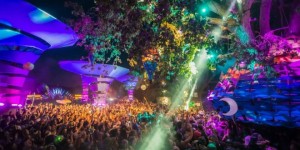 If you haven't heard of Woogie Weekend you may be missing out on one of the best and newest festivals of the year. This three-day camping music festival is taking place July 17th through the 19th at Oak Canyon Park and was created by The Do LaB, the promoters behind the amazing Lightning In a Bottle festival.
Anyone who has attended Lightning in a Bottle could tell you that the Woogie stage was among one of the most popular. This is why the founder, Jesse Flemming, had the motivation to create a house-centered music festival. With over 30 acts and two stages there will be no shortage of excitement from within this intimate event. Danny Daze, Henry Saiz, Nick Warren, Fred Everything and Moon Beats are just a few of the artists that will be wowing festival goers. But that's not all to be excited about at Woogie Weekend.
Aside from just the music, Woogie Weekend is also centered around connecting with your spiritual and cultural roots and respecting other's beliefs as well. This may be the outlining factor that makes festivals like Woogie Weekend and Lightning in a Bottle truly different. The ability of people from all different backgrounds to come together and promote change from within and extend it outward to the world we live in.
To check out the full lineup and to purchase tickets, head over to the official site for Woogie Weekend. This is sure to be an amazing event. Also don't forget to check out the trailer to the event below: