Girlfriend Tries To Get Rid Of Dog, Guy Chooses Dog Over Her. Sometimes ultimatums are left unchecked, especially if they in regards to relationships. Well that wasn't the case for this guy who literally chose his dog over his girlfriend.
Scott Ladauti says that the decision was easy to make when it came to salvaging his relationship or keeping his dog.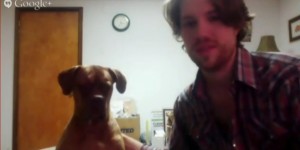 "When [my girlfriend] gave the ultimatum, it really wasn't a question," he told HuffPost Live. "I lived in my car for, like, four days with my dog before my parents would let us come back to their house. But I would have been homeless with her forever."
He also stated how the relationship had been on the rocks for a while and that he even got the dog initially to save the relationship.
"I sort of got the dog, I guess, to try to save the relationship," he said. "I mean, I'd always wanted a dog, and we were living in a terrible area, so I thought getting a dog was probably the best idea. I mean, we would have fallen apart anyway. This definitely accelerated it."
Looking back at the relationship, Ladauti seems to have seen the signs long before the actual breakup.
"Every time the dog did something wrong, I would take the dog's side," Ladauti said. "And we would just get in a fight about that too. So it was bad all around, but I made the right choice for sure."
As long as both parties are happy in the end. Ladauti also said that his girlfriend at the time was happy to get both of them out of her hair.