Harvard Student Runs Naked Through Airport, Bites Off 84-Year-Old's Ear.
A 26-year-old Boston man was arraigned in court last week on Wednesday after going on a rampage at Logan Airport on that Saturday before the arraignment.
Cameron Shenk, who was an economics student at Harvard Extension School, had apparently stripped naked and then climbed into a women's bathroom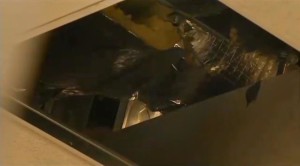 ceiling at the airport on Saturday, but that wasn't the craziest thing about the incident.
After falling through the ceiling in the restroom, he fled the area "bleeding and naked." He then proceeded to assault an 84-year-old man, biting part of his ear off and trying to choke him with his own cane, according to prosecutors.
Police eventually got involved and one of the state troopers was treated for minor injuries after the scuffle. The elderly man was admitted to a nearby hospital with non-life treating injuries.
The question would now be why did Shenk do it. As of Wednesday, he has plead not guilty to the charges of attempted murder, mayhem, assault, and lewd and lascivious acts.
His attorney has said that Shenk is not mentally ill and the man's father, Derek Shenk, gave CBS Boston a very interesting quote when interviewed. "We can learn a lot from Snow White," Derek Shenk said. "Sometimes when you're given an apple, it really does contain poison."
Now we may never truly know what set Shenk off, especially with the plea of not guilty. Only time will tell is we will figure this crazy mystery out. Either way these were not the acts of a completely sane person. Shnek is being held without bail pending a dangerousness hearing on Monday.