Hawaii's Awesome, But Completely Illegal, Water-slide.
So let's start off by saying that this place is totally illegal to go to, but looks super awesome and most of you probably want to go there anyways.
What looks like one of the most awesome water slides ever, is actually a giant man-made reservoir that's located on the island of Oahu.
The Waimanalo Reservoir was built to help with the irrigation in the town of Waimanalo, Hawaii.
Even though there are barbed wire fences and clear risk of danger, that didn't stop these kids from breaking in and having a blast on what appears to be a plastic tarp.
However, there has been many injuries from people breaking in and doing this. One person even commented on Facebook that he is paralyzed from the waist down due to an accident at the reservoir.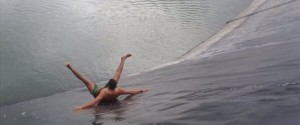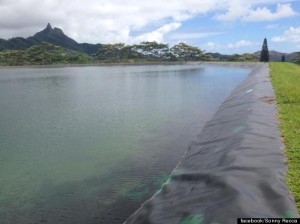 Getting caught breaking into the reservoir is considered criminal trespassing in the second degree, a petty misdemeanor in Hawaii. I mean in a way it seems totally worth it… unless you end up paralyzed.
In any regard, the reservoir itself has since been finished and today it seems like you wouldn't be doing much sliding anymore. That's a huge bummer…