Jenise Wright 6 Years Old Missing, Parents Not So Worried. The parents of a missing six-year-old girl in Washington state told police they weren't worried about their daughter's disappearance at first because she often plays alone in the neighborhood. "I'm hoping that she just spent the night somewhere, you know," her father James Wright told ABC affiliate KOMO. "She's really independent, she's tenacious." His daughter Jenise Wright was last seen when she went to bed Saturday night at home in the Steele Creek Mobile Home Park in Bremerton, police said. She was not reported missing until Sunday night. And her parents were not the ones to report her missing, it was a concerned neighbor.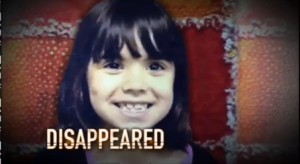 Another neighbor Greg Camenzind told KOMO that his daughter had played with Jenise before. "I have hope that she just wandered somewhere," he said. "She was allowed to just wander around, you know, by herself. She's just really sweet, trusting. She would walk right up to a stranger and talk to him." The family thought the area was safe for Jenise to just wander around alone because the mobile home park is fenced off and she checked in regularly. However, new details have emerged about the dark past of the missing girl's father. court records show that James Wright was charged with molesting his stepdaughter back in 1999. He pled guilty to assault, but the molestation charges were dropped.
The girls parents have taken a lie detector test but the results probably won't be released to the public. The police continue to look for the missing girl, who's described as being 3-ft tall with black hair and weighing 45 pounds. They are investigating her disappearance as a missing persons case with "suspicious circumstances." She was last seen August 3. Please share this report to get her photo out there for everyone to see. Child protective services took 2 of Jenise's siblings from the home. An 8-year-old boy and a 12-year-old girl. The FBI is also now involved in the investigation. CLICK HERE —> TO LIKE DAILY BUZZ LIVE ON FACEBOOK!