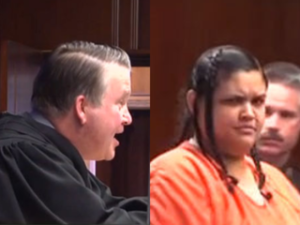 Judge Flips Out On Convicted Murderer 'I Hope You Die In Prison'.
Michigan's Jackson County Circuit Judge John McBain found convicted killer Camia Gamet's attitude irritating as she smirked and laughed at the victim's family.
On Wednesday, he threatened to duct tape her mouth closed. A jury found Gamet, 31, guilty of first-degree murder after they did not buy her claim of self-defense in the death of Marcel Hill, 38.
Gamez said that she mistakenly identified her boyfriend for an unknown attacker when she beat him and stabbed him 12 times. It was said that she "gutttted him like a fish."
Judge McBain sentenced Gamet to life in prison without the possibility of parole. He made it very clear that if the death penalty was legal in Michigan, she would get "the chair." McBain ended his statement by saying, "I hope you die in prison."