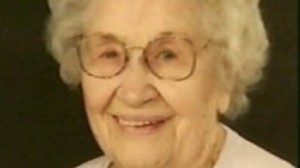 Laura Lundquist, 102, Faces Murder Charges In Nursing Home Killing.
According to Boston AP, 102-year-old Laura Lundquist is accused of killing her 100-year-old roommate in a Massachusetts nursing home in 2009. She is facing second-degree murder charges.
Lundquist was only 98 when she was charged with strangling Elizabeth Barrow, who was found with a plastic bag tied around her head as she lay in her bed at the Brandon Woods nursing home in Dartmouth.
Lindquist has been held in a state psychiatric hospital since the incident due to her long-standing diagnosis of dementia. She was ruled incompetent to stand trial. Barrow's son, Scott, says he realizes Lundquist will probably never go on trial for his mother's murder.
"It would be like prosecuting a two-year-old," he said. "It's just an awful thing that happened. How could she be held accountable for this when she is not in her right mind?"
Bristol County Dist. Atty. Sam Sutter said prosecutors pursued the second degree murder charge because they did not believe that Lundquist had the mental ability to form premeditation.
Premeditation must be proven in order to set charges for first-degree murder. Sutter's spokesman, Greg Miliote, said the case remains open. "Ms Lundquist was deemed incompetent to stand trial, and we are told that it is unlikely to change," he said. "However, the court is updated on her competency every three months, and if her competency to stand trial should change, the matter would move forward in the courts."
The victim's son, Scott Borrow, is hoping the lawsuit he filed against its owners and operators will be heard by a jury. In 2012, it was ruled in the favor of the nursing home, and arbitrators found no negligence.