"Lizard Man" Is Back In South Carolina – WATCH, Do You Believe?
The Bishopville swamp creature known as "Lizard Man" appears to have resurfaced Sunday afternoon.
Sarah, a Sumter woman who says she went to church with a friend Sunday morning, stepped out of the sanctuary to see the Lizard Man running along the tree line.
So she did what anyone else would do – took a picture with her phone. "My hand to God, I am not making this up," she wrote in an email to the ABC News 4 newsroom. "So excited!"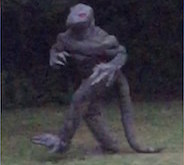 She says they were just a mile or so from Scape Ore Swamp, the site of a similar spotting of what may also be the Lizard Man in May.
A man who asked not to be identified submitted a short video of what he thought was the Lizard Man Monday morning. He said he took the video in May while coon hunting and kept its existence quiet – until he saw the reports of Lizard Man outside a church.
He submitted the video you will see below: