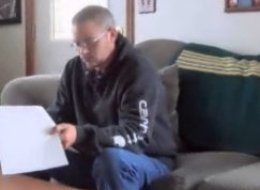 Man Files Restraining Order Against 5-Year-Old Boy. A Wisconsin dad just recently filed a restraining order against a 5-year-old boy that has been bullying his daughter throughout the school year. The daughter attends Prairie Lane Elementary School in Pleasant Prairie, Wisconsin and the dad, Brian Metzger, doesn't believe enough is being done by the school to stop this intense level of bullying.
The little girl claims that the boy has been harassing her all year and has literally said, "I want to slit your throat and watch it bleed." Creepy right? The straw that finally broke Metzger's back was when the little boy kicked his daughter in the face and threw rocks and sand at her. He then filed a police report as well as a restraining order. Metzger said he did so because the school wasn't doing enough to stop the bullying from happening. "They've kept him in the same classroom with my daughter throughout this until Wednesday morning because Tuesday night I showed up with a restraining order," he told CBS Chicago. Apparently other students were also having trouble with the same boy. The Kenosha Unified School District spokeswoman Tanya Ruder said that she could not comment on the specifics of the case but said, "There's always two sides to every story."
Metzger said that he has received some criticism for filling the restraining order and some have even asked why not contact the boy's parents? He responds, "If they knew the facts, they'd know the parents have been contacted by the school." I think there is a line that parents need to draw when it comes to bullying. Sure, kids will be kids, but when a kid is literally inflicting real fear and physical pain on another child, something needs to be done.