Share The Knowledge!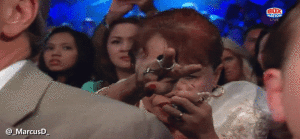 Manny Pacquio's Mom Curses Bradley During Fight. Did "Mommy D" just put a hex on Timothy Bradley? A short video has gone viral, showing Manny Pacquiao's mother, Dionisia, uttering something in front of the TV cameras while her son was trading punches with Timothy Bradley in a world welterweight title boxing match in Las Vegas, Nevada.
Her left hand was clutching a rosary and what appeared to be a small holy picture, her right middle finger pointing to the cameras. The joke on social media was that she was "casting a spell" on her son's opponent. Whatever it was, it seemed to work. And with those precious few seconds during the pay-per-view telecast, she stole the show for Manny, who would go on to avenge his highly disputed loss to Bradley in 2012.
Share The Knowledge!