Mechanically Separated Meat – The 'Pink Goo' In Your Chicken Nuggets.
Meat processors use two terms to refer to products created by mechanization which allows me processors to recover edible meat tissue from the carcasses of animals. It is called mechanically separated meat (MSM) and mechanically separated poultry (MSP).
Prior to this, the majority of the meat scraps and tissue from animals went to waste because processors had no efficient means of separating it from the bones after the good meat was removed from the carcasses.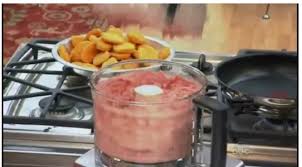 Today, this is not an issue thanks to mechanically separated meat. It is a cheaper alternative to our hot dogs, chicken nuggets, and frozen dinners which do not need to retain the appearance, shape, and texture of "regular" meat.
Mechanically separated meat is a paste like batter meat product created by forcing un-stripped bones under high pressure through a sleeve to separate edible meat tissue from the bones.
It involves the entire animal carcass such as bones, eyes, and cuts into one large glob of meat. It is a popular technique for today's processed, quick to make foods.
Also, beef producers commonly treat these meat products with small amounts of ammonium hydroxide as an antimicrobial agent.
Watch the video clip below from the television series Jamie Oliver's food Revolution. he quickly demonstrates the process in which mechanically recovered a poultry is turned into chicken nuggets and chicken patties: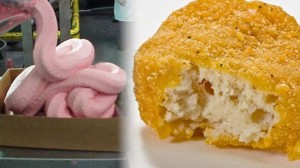 According to the US Department of Agriculture USDA (BECA– USE THEY WOULD NEVER LIE ABOUT OUR FOOD SAFETY… RIGHT??), mechanically separated poultry is safe to eat and may be used without restriction, however and commercial food products it must be labeled as such:
"Mechanically separated poultry (MSP) is a paste like and batter like poultry product produced by forcing bones, with attached edible tissue, through a sleeve or similar device under high pressure to separate bone from the edible tissue. Mechanically separated poultry has been used in poultry products since the late 1960s. In 1995, a final rule on mechanically separated poultry that it was safe and could be used without restriction. However, it must be labeled as "mechanically separated chicken or turkey" in the products ingredient statement. The final rule became effective November 4, 1996. Hot dogs can contain any amount of mechanically separated chicken or turkey."