Melania Trump Threatens to Sue Over Barron "Autism" Video After Rosie O'Donnell's Tweet
There may be hell to pay after Rosie O'Donnell shared a video accusing Barron Trump of being autistic. His mother Melania Trump is fuming over the video and the extra tension Rosie brought to it, and now she's threatening a major lawsuit.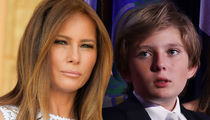 Melania Trump, 46, like many people on twitter, is livid that someone on the Internet made a video comparing 10-year-old Barron Trump's behavior with that of a child with autism. What made her more upset is the fact that Rosie O'Donnell, 54, shared it on November 21 on Twitter.
The soon-to-be First Lady lawyered up on November 28 and TMZ got a hold of a legal letter they sent insisting that Barron, is in fact, not autistic. "The video allegedly seeks to stop the bullying of Barron Trump. Not true… The video did instigate further bullying by Rosie O'Donnell and others," lawyer Charles J Harder explained. The original controversial tweet by Rosie claimed that Barron being autistic would be "an amazing opportunity to bring attention to the autism epidemic," along with a video telling people to stop bullying him because he may have autism.
Clearly Melania feels that Rosie cared more about taking a dig and "bullying" the Trump family than she does raising awareness for autism. But Donald's wife is not pursuing legal action against the former TV host, she's simply asking the person who posted the video to take it down and apologize for wrongly accusing her son of having a mental disability that he simply doesn't have.
Later on November 28, the poster of the video decided to take it down, saying "TMZ just contacted me to tell me Melania Trump is threatening a lawsuit over the video. I never ever meant this as a bullying video."
To further prove her point, the letter debunks some of the telltale signs the video claims shows Barron is autistic. It pointed out to his odd hand clapping at one events, which only happened because he had had a long day and the "vast majority of the time, he claps normally." On top of that, his yawning at the RNC and on election night was simply because it was late and he was a sleepy kid.
Do you think that the poster of the video should take it down and apologize? Share your thoughts with us!