News Anchor Dances To Taylor Swift During Break, Co-Anchor Not Amused. This news anchor has no shame and it seems his co-anchor defiantly wishes that he did.
Dan Thorn was on a commercial break on WVNS 59 news when he decided to break out into dance listening to the Taylor Swift song "Shake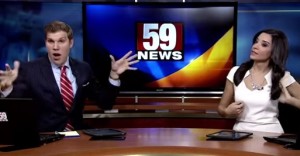 It Off."
Sarah Pisciuneri, Thorn's co-anchor, doesn't seem to be the slightest bit amused by the dance, but that doesn't stop him from stopping. Not in the slightest.
This is apparently not the first time this anchor has done some mid-break shenanigans. Last week the West Virginia anchor uploaded a video of himself dancing to T.I.'s "Where They At Doe."
At one point Thorn tries to pull Pisciuneri into the Taylor Swift dance and she does the bare minimum. A head nod and a slight hand wave. Maybe next time he'll have better luck.