Real Life Grand Theft Auto Caught On Video.
This is not a video game you are watching. A wanted man caused rush hour traffic chaos during a dramatic police chase involving multiple stolen vehicles.
Ryan Stone, 28, allegedly cause a multi vehicle crash as he fled from police, resulting in one officer being taken to the hospital with serious injuries.
The suspect allegedly carjacking a SUV with a 4 year old boy inside and drove with him in the back for over an hour. He was then filmed by a news helicopter getting out of the stolen car before pulling a woman out of another car in Denver, Colorado.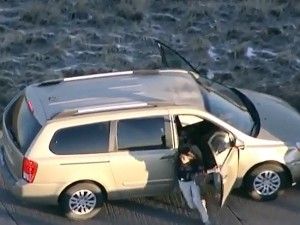 "This was a strange and crazy morning in Colorado", said Douglas County Sheriff David Weaver. Stone was eventually caught by police after attempting to make a get away on foot and could now face a charge of attempted murder.
He was already wanted by police after failing to appear in court over drug offenses.
CLICK HERE —> TO LIKE DAILY BUZZ LIVE ON FACEBOOK!