Red Lobster Waitress Suspended For Posting Racist Receipt On Facebook. A 19-year-old Red Lobster waitress was reportedly suspended after posting a customer's racist comment which they wrote on her receipt to her Facebook page. Toni Christina Jenkins said she was working her shift as a server at the Nashville, Tennessee Red Lobster when she encountered two customers.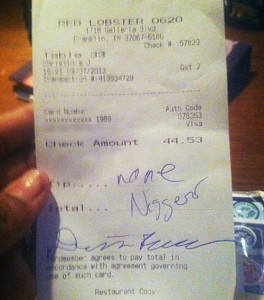 They were a couple, a man and women in their 20's, who were extremely rude to her. She said the customers had ordered about $45 worth of food, and did not leave her a tip. In the tip section of the receipt, instead of leaving a gratuity, one of the customers wrote 'NONE' and the racial slur 'N*GGER' was written directly below that in the total section. Jenkins, a nursing school student who has been working at the famous restaurant chain for nearly a year now, snapped a picture of the message and shared it on Facebook writing, "This is what I got as a tip last night… So happy to live in the proud southern states. God Bless America, land of the free and home of the lower class racist of Tennessee". Her father, Tony Bernard Jenkins, also posted the image on his Facebook page, saying that he hopes it will bring awareness to the simple fact that we still have much ignorance to overcome, so much more love to give and much more hope to inspire change.
After the story went viral, Red Lobster found out and Jenkins was placed on suspension without pay, while management determines whether or not she violated company policy.