Robbers Sell "Discounted" Gas to Unsuspecting Customers. When people usually rob places the next thing they try to do is get away usually, right? Well that wasn't the case when three men allegedly held up a Hess gas station in Pennsylvania. After the robbery the three stayed around for hours selling gas at "discount" prices to unsuspecting customers. The whole situation is quite bizarre. I guess they just weren't satisfied with what they found in the register.

One of the men dressed as a Hess delivery man to get into the station. After doing so the three suspects forced their way into the booth. One of them was armed and placed his gun to the head of an 18-year-old attendant. The 18-year-old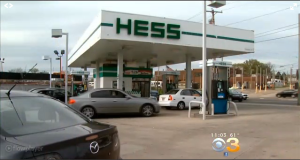 attempted to hit the robber and the gun went off. Luckily he was only grazed in the head, but afterwards the robbers took all of the cash and locked the 18-year-old in the bathroom while they attempted to gain more cash by selling gas to customers for hours. The suspects took control of the station until about 4:30 a.m. Lt. John Walker of the Philadelphia Police Department told CBS, "In my career, that's the first time I've seen or heard something like this occur. Obviously they didn't feel like they got enough money, so they're going to sit there, take control of the business, offer gas at a discounted price and try to get additional money which is just bizarre."

The sad thing about all of this is that the Hess station did not have any security cameras to catch any of the events when they occurred. Hopefully these robbers get caught in the near future. Police believe that these three may also be responsible for a robber that happened last week around the same area. The father of the 18-year-old is just happy that his son is safe and was not severely harmed. Hess is cooperating with the police in apprehending the robbers.