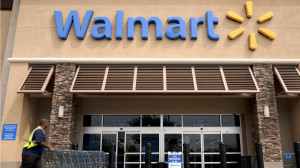 Runaway Teen Lives Undetected In Texas Walmart For 2 Weeks.
A 14-year-old Texas boy found all the comforts of home as he stashed himself away at a local Super Walmart. The teenager lived undetected for 2 weeks in this 24 hour Walmart until an employee spotted him stepping out from behind some boxes in the baby apparel isle.
When the employee pushed aside the boxes, a number of items were found which indicated that the teen had been living there for quite a while, Walmart spokesman Brian Nick said. "Normally if there's a child missing in a store we are actively looking for that child," Nick said. "But it's a different matter when employees are unaware a child is missing." He continued to explain, "We just didn't have any knowledge that this child was missing, and certainly not in one of our stores. A teenager walking about a Walmart would not have caught an employee's attention. Particularly in a Supercenter that's at least 200,000 ft.² with thousands of customers coming and going."
The boy ran away from his aunts home on July 28 and managed to survive by stealing food and drinks from the store and changed clothes periodically to avoid detection. The police said in a statement that the boys parents were out of town and he was staying with his aunt when he ran away.
He was then found later in the store. Nick said he left the store when the employee spotted him, and police eventually found him outside. The teen has a history of running away, but would usually hide in abandoned homes and businesses. Walmart does not intend to seek charges against the teen.
CLICK HERE —> TO LIKE DAILY BUZZ LIVE ON FACEBOOK!