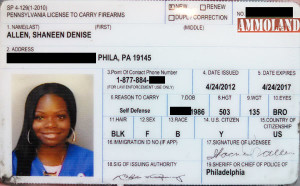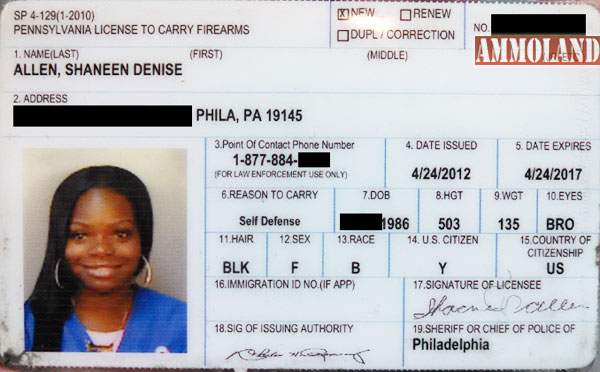 Single Mom With Concealed Weapons Permit Facing 11 Years In Prison For Gun Possession. a 27-year-old single mom and medical assistant, Shaneen Allen, is facing over a decade in prison for carrying a firearm even though she had a valid concealed carry permit. Allen decided to purchase a firearm with a valid Pennsylvania permit to protect her two young boys after she was previously robbed twice. The permit she obtained in Pennsylvania was valid to cover her in over 30 other states. While traveling through the state of New Jersey last October, she assumed her license would apply there as well. Allen was pulled over for allegedly making an unsafe lane change. She quickly volunteered to the officer that she was armed and had a legal permit. She showed her permit to the officer, which unfortunately was not valid in the state of New Jersey. New Jersey is a state with a very strict gun laws. Allen was handcuffed and spent the next 46 days in jail. As a result, she has been fired from her job and is currently awaiting trial.
According to a report on 'Anonymous' anonhq.com, Superior Court Judge Michael Donio decided Allen was not covered by the gun amnesty for the surrender of firearms in New Jersey that was going on at the time of her arrest. She was also denied the Pre-Trial Intervention Program by the Atlantic County Prosecutor. This program would have helped her avoid a criminal conviction and jail time. This is the same prosecutor that had accepted NFL player Ray Rice onto the program after a violent assault charge. The judge refused to overrule this decision. The prosecutor has offered Allen 5 years in prison with no option of parole for 3.5 years, in exchange for a guilty plea. Even though Allen has no prior criminal record, owned her gun and had a valid permit, the single mother is still facing a minimum of three years in prison.
Last week, Judge Donio was more than unforgiving and refused to dismiss Allen's case. She now reportedly faces a maximum of 10 years in prison for possessing a concealed weapon, and an additional 18 months for possession of hollowpoint bullets. The case has since grabbed the attention of national media outlets, and has been described as "an honest mistake" by Allen herself. Her sons face growing up without a mother, while New Jersey's gun laws are under national scrutiny. The trial is scheduled for October 6. CLICK HERE —> TO LIKE DAILY BUZZ LIVE ON FACEBOOK!