The Skinniest Woman In The World.
Valeria Levitin is a skeleton with a thin film of skin tightly over her bones. Hundreds of girls worldwide want to look like her, but she would rather be a poster model of how anorexia can destroy your body.
Weighing only 55 pounds, Valeria the skinniest woman on earth. She poses in just a bikini for a Russian newspaper, hoping that the results of anorexia would get people away from this debilitating disease.
Instead, the fan mail comes in, wondering how she managed to get herself so skinny. According to a YouTube video, Valeria says it's mostly women in their 20's that keep requesting the Valeria teaches them how to get skinny. They say Valeria inspires them.
Valeria has suffered from anorexia for 23 years now and her intended message is that anorexia makes a woman unattractive and lonely. Years of malnutrition now causes her pain when she does eat.
She has not had a date in over 10 years. She also can no longer do any hobbies or dnce because dance instructors are scared that she could get injured.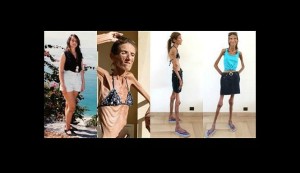 Valeria would like to be a mother someday, but her body could never carry a child while she still has disease. She is hoping that very slowly she will be able to heal.
CLICK HERE —> TO LIKE DAILY BUZZ LIVE ON FACEBOOK!