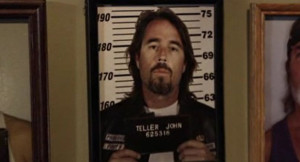 Son's Of Anarchy Prequel: Is It Still A Go? With the last and final season on it's way, Sons of Anarchy fan's are devastated at the thought of it's ending. But there is still some hope. In 2012 we started hearing about the Sons of Anarchy prequel that will show the "First 9" of SAMCRO. However, things have been silent for quite a while now. So, is there still the possibility of this much anticipated prequel? Last Week the AV Club posted that the show might still be a viable project. During the TCA Press Tour, SOA creator Kurt Sutter spoke to reporters about the status of the project. "If I do the prequel, it will probably be a 0ne-off", said Sutter. "I don't see it being a full blown 5 season series."
Instead, he says he sees the show as more of a 10 episode miniseries. The series is said to be about Jax's father and the original members of the Sons of Anarchy. It will offer insight on how Jax's father plan to take the club legit and how he was killed his efforts. The current and final season of Sons of Anarchy is currently under production. Sutter says he has a sense of where he wants to take the show, but is still not sure what will happen specifically. He explained during the interview at TCA that the journey to take it there is still unfolding and he isn't entirely sure how it will end at this point.
The series will pick up 10 days after Tara's brutal murder. Jackson will start out in prison for her murder but he won't be there for long. Then he will be a man on a mission to find out who killed his wife. It is not likely that we will see Tara in the 7th season as Sutter has previously said, "Sons doesn't really do flashbacks". Season 7 of Sons of Anarchy premieres on September 9 on FX. The season premiere and finale will be followed by a live panel show, called "Anarchy Afterword".