Students Suspended Over AirSoft Gun In Homecoming Photo. A young high school couple form Massachusetts was recently suspended from school after they posted a picture on social media that showed them brandishing toy AirSoft guns.
The two students Tito Velez and his girlfriend, Jamie Pereira are seen posing in the photo taken right before the homecoming dance at Bristol Plymouth Regional Technical School. They posted the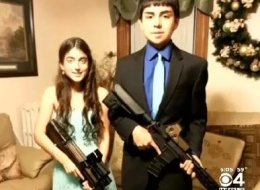 photo on Friday night with the caption "Homecoming 2014."
Officials at the school said that they perceived the photo as insensitive and suspended the teens after the dance. They were punished for "causing a disruption."
"What it's about is a [couple of] students engaging in an activity that created a total destruction of the school day," said Superintendent Richard W. Gross. "They're juniors in high school, and it's proactive and they should know better and it scared students."
Both the students are somewhat confused about why they are being punished considering the guns only shoot plastic pellets and they were at there own home, not at school.
"This isn't dangerous. You can't kill someone with it," Velez said to CBS Boston. "We didn't shoot anyone. We were pointing them at the floor."
Supporters say that the school is overreacting in suspending the teens, but the school insists that extra precaution is necessary. Gross says that if the police had caught wind about the photo the school dance would have been canceled.
Even though school shootings are on the rise, occurring on average every 64 days, does that really mean we have to punish kids that aren't being malicious in their intent. Share this article and let us know what you think.