The Shot You Missed If You Were Watching The NBA Finals
While everyone is talking about the NBA finals, they may have missed the best shot all weekend and it took place in Tasmania, Australia.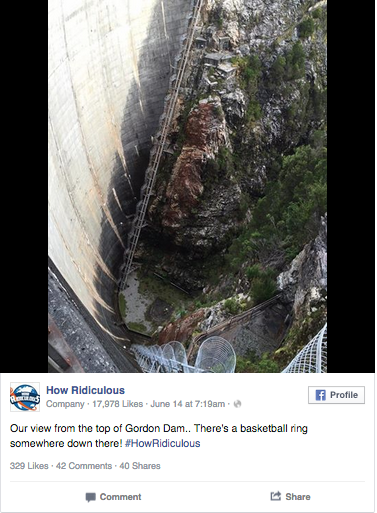 Brett Stanford is apart of an Australian team called How Ridiculous and on Sunday they broke the world record for "greatest height from which a basketball is shot." Stanford and his team managed to shoot and make a basketball shot from a top the Gordon Dam in Tasmania, which is 415 feet high.
The shot itself was featured on the Australian TV show "Sunday Night." The team said they had to wait for nearly 3 days for the weather conditions to be right and even on Sunday it took them about 4-5 hours to hit that impossible shot.
As amazing as this feat sounds, they were only breaking their own record. How Ridiculous already held the Guinness World Record for a shot they accomplished in 2013. That shot was off Rotterdam's Euromast Building in 2013 and was from a height of 299 feet.
According to the description in the YouTube video, How Ridiculous may be aiming for more insane heights that this. Only time will tell. Check out the video below and share with your friends.