Truck Driver Pulls Over Police Officer- VIDEO.
Have you ever been driving down a street or highway when all of a sudden a police car speeds past you and you think to yourself, "I wish I could pull that cop over and give him a speeding ticket."
Well this Illinois man didn't give a police officer a ticket, but he pulled him over using his horn and gave him a piece of his mind. Oh yeah and he video tapped it all.
Last week a man identified as Brian Miner, uploaded a video to YouTube in which he flagged down a Illinois state trooper with his truck horn. He did so because he believes that the officer was allegedly speeding and talking on his cellphone.
Miner confronts the officer about the violations and asks him is he is above the law. The unidentified officer tries to give Miner a ticket for unlawful use of his horn. In which, Miner said that it wasn't unlawful and that the officer was speeding and talking on his cellphone.
Afterwards he tells the officer that he is being recorded. This doesn't change the officer's tone right away, but when the officer returns he apparently decided to not give him a ticket.
"I didn't want to hurt your record," the officer said. After the officer walks away from the truck, Miner turns the camera back towards himself and says, "And that's what happens when they know you're recording."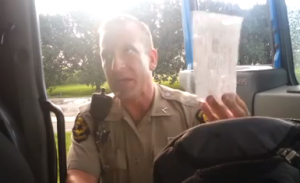 When filming the police, however, one must be careful. There are apparent dangers with filming law enforcement.
Check out the video below: