(VIDEO)Check Out The World's Smallest Apartment! How much space do you think that you need to live comfortably? Well this Kitoko Architecture Firm may be changing the way we answer that question.

The architecture firm turned a 86-square-foot apartment in France into a completely livable space. This small apartment has everything that one would need: a bed, kitchen, bathroom, table and chairs, closet, and even storage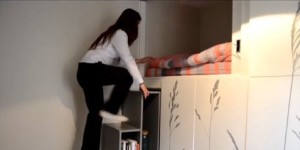 space.

The space was originally used as a maid's room, but now is a fully functional, livable space that makes us all rethink the need for more room. The designers say that they used the "concept of the Swiss army knife" for the design of the apartment.

This totally makes sense after you see how everything folds and slides out as if it is just one big tactical device. Check out the video tour of the apartment below and let us know what you think: