Do You Want To See A Trick? Then Check Out This Video. This kid magician seems as though he can hang with the best of them. Moritz Mueller puts on a demonstration in this video of how to make silver coins appear and disappear out of thin air.
The only problem is that he doesn't tell you how he does it. This young boy's slight of hand is so good, it leaves most viewers wondering how he does it.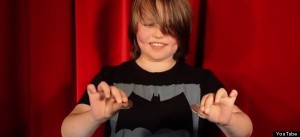 "Hey well done, sir! This was very impressive," said one YouTuber. Another just mearely said, "Holy crap, that's awesome!"
According to the description via YouTube, the trick itself was invented by Moritz himself and if that's the case he may be one of the next great magicians of our time.
He has even caught the attention of established magicians. French magician Dafedas B posted on Facebook, "Moritz Mueller has a brilliant 'smooth touch' that transforms classics into poetry. I recommend his material."
Check the video out below. How do you think he does it? Share this article and let us know what you think.