WATCH: Check Out What Happens When You Microwave A Glow-stick.
Well I don't know what this kid thought would happen if he microwaved a glow stick, but the results weren't all too surprising.
The kid, Jack, starts the video by cracking the glow stick and then proceeds to place it in the microwave.
Now the glow stick doesn't blow up right away which maybe is why Jack was so surprised about what happened next.
After getting the
ticking time bomb out of the microwave, Jack starts shaking it. It then explodes all over him, getting in eyes.
Jack immediately starts yelling for his dad. His dad then spends at least three minutes trying to call poison control, reading the glow stick label and yelling at his son.
"God dammit, Jack!" the dad yells. "I have to see what to do, you dingaling! … Not to mention it's all over your awesome shirt."
Luckily for Jack, the chemical inside glow sticks is low in toxicity so he probably won't go blind. The most it will do is cause minor irritation.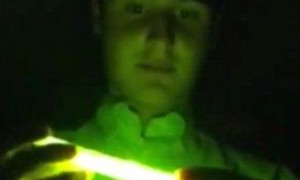 According to the poison control center, you should flush out the eye with water for at least 10 minutes if contact is made.
Check out the video below and share it with your friends. Oh and remember…don't microwave glow sticks…