WATCH: World's Fastest Bike Beats A Ferrari.
Did you ever think you would see a bicycle beat a Ferrari?
Well that's what this adrenaline seeking Frenchman accomplished when he broke the record for the world's fastest bicycle.
Franois Gissy recently set the new world record for the fastest bicycle, going 207 mph. Although this was no ordinary bicycle.
The bike that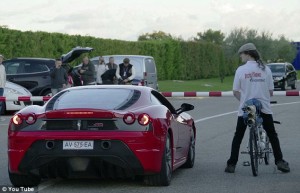 Gissy was riding had the help of some rocket power.
Gissy set this world record on Friday at a racetrack in Le Castellet, which is located in Southern France.
He reached his top speed in about 4.8 seconds and traveled about 820 feet before hitting that speed as well.
Although Gissy rode the bike, he did not design it. Arnold Neracher, a friend of Gissy's, designed the bike and he works for Exotic
Thermo Engineering. It was powered by highly concentrated hydrogen peroxide according to Gizmag.
Gissy already seems to have plans for his next ride, "If we can find some serious sponsors, then we would like to build a monstrous bicycle, which will be called 'Spine Crusher." The goal would be to accelerate to more than 400 km/h (249 mph) in less than 2 seconds.
In the video below, you can see that not even the Ferrari F430 could touch it. Leaving it behind in a cloud of smoke. Check out the video below and see how fast this bike can go: