Wife's Nagging Wins Her Husband $326 Million.
Most men hate listening to there wives tell them that they can't do something, even though we know that they usually listen to them to avoid making them angry. Well this man has his wife's 'insistence' to thank for his $326 million dollar lottery win.
Harold Diamond is an 80-year-old retired teacher from Sullivan County and the recent winner of the Mega Millions lottery. Diamond credits his wife, Carol, for the win as he thanked her while being awarded the winnings.
The couple had recently been on their way to eat dinner and it was raining heavily that night. Carol was concerned about her husband driving in the rain so she asked him to pull over.
Diamond apparently wanted to continue driving but decided also that he didn't want to upset his wife. With that in mind, he pulled into the gas station, where they bought the lottery ticket, until the rain subsided.
The ticket that the couple bought that night went on to be the biggest lottery ticket winner in New York's history. Diamond told the New York Post, "My wife insisted we stop here to eat and wait for the weather to clear, and I reluctantly agreed. I have to thank her with both barrels because if it weren't for her insistence, we would not be here today."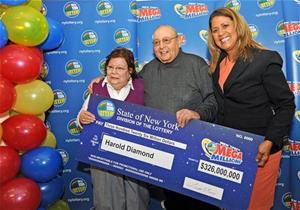 So maybe the story here is to listen to your wife? I don't know I'm still kind of skeptical.. Share this article and tell us what you think.