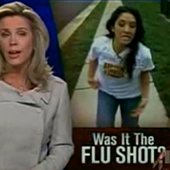 Woman Takes Flu Vaccine Now She Can't Walk Forward. Doctors have confirmed that a seasonal flu vaccine to a Virginia woman becoming severely disabled. Former Redskins cheerleader Desiree Jennings was a fit and healthy cheerleader up until two months ago when she got a seasonal flu shot.
10 days after the shot she began experiencing flulike symptoms, followed by severe convulsions and blackouts. Now she can barely talk or walk and her life has been destroyed.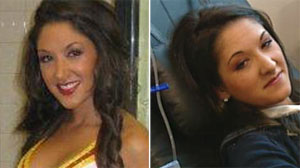 After seeing 60 doctors, Jennings was eventually diagnosed with dystonia. Dystonia is a paralyzing neurological disorder that causes the muscles to relentlessly contract and spasm. Strangely, increased physical activity causes her heart rate to decline, meaning she can run for hours. However the resting heart rate is 90 and walking a few steps is exhausting and almost impossible. There is no cure for the disease and it gets worse over time.
The video below shows her story….