Over 100 Kids In Two Texas Cities Overdose On Synthetic Marijuana.
In Dallas and Austin Texas, over 100 kids have overdosed after smoking a synthetic marijuana called K2, Carla Wade of WCNC reports.
The batch of synthetic marijuana originated from a Dallas supplier. The fake weed, called K2 or Spice, is sold as incense or potpourri, but kids are using it in place of marijuana because it is legal and easy to obtain.
The DEA has tried to crack down on the production of synthetic marijuana by making certain compounds illegal. But suppliers just evade restrictions by creating new compounds with similar effects.
Head shop owner Eric Vandervoort told Business Insider this, "Manufacturers buy empty packages from China and fill them with whatever blended they want."
According to him this is the scariest thing about the fake weed. This synthetic marijuana can have a wide variety of negative effects on the body, most of them bad.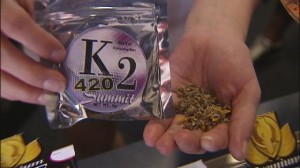 These packages of Spice can contain thousands of untested compounds which have caused deaths in many children after smoking the substance. Below you can see for yourself a teenager who has smoked Spice, his reaction is unpleasant to watch.
CLICK HERE —> TO LIKE DAILY BUZZ LIVE ON FACEBOOK!