114 Year Old Woman Had To Lie About Age To Join Facebook.
If someone were to lie about their age just to join Facebook, you would probably imaging an unattended pre-teen signing up for an account.
Not the case with this tech-savvy female. She was eager to join Facebook, but due to her 114 years, she was off the charts for her registration. Facebook only goes back to 1905. Shame on you Zuckerburg!
Anna Stoeher, born in 1900, just celebrated her 114th birthday. She recently purchased her first iPhone and has been using Facetime, Google, Instagram and Facebook.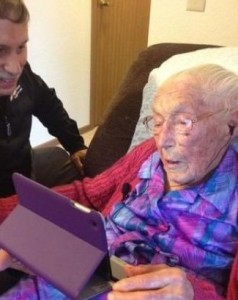 Stoeher is not the only high tech senior on the social media wagon. Her BFF on Instagram is 85 year old Rex Redstone, who was one of the oldest pic-sharing app users until she came along. She also likes to Facebook Edythe Kirchmaier, 106, who was dubbed the oldest registered Facebook user, who Stoeher has now de-throned from the title.
Stoeher sat down on her typewriter to  write a letter to Mark Zuckerburg concerning her registration problems. She told him, "I'm still here."