Bounce House Flies Away, Children Seriously Injured. A Little Tykes Bounce House was swept away by a gust of wind on Monday in South Glens Falls, New York. Inside were two boys and a girl, ages 5, 6 and 10. The girl was thrown out quickly after the gust, but the two boys held on and were eventually dumped out of the bounce house from 15 – 20 feet up in the air. The two boys were seriously injured and rushed to a local hospital. One of them landed on the hard asphalt, another on a parked car.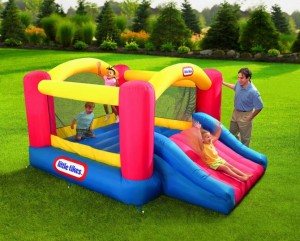 Post Star reported that one eyewitness, Taylor Seymour, a resident of the apartment building where the incident occurred, said the bounce house was affixed to the ground with stakes. The wind was so strong it picked up the playhouse and spun it around like a small tornado. One of the boys was thrown 30 or 40 feet northwest onto Ferry Boulevard, the other about 20 feet southeast landing on the back of Seymour's car. The bounce house was at least 15 to 20 feet off the ground when the boys fell out. "It was like a horror movie," she said. "It just kept going up and up. It cleared our building and the trees."
There are no updates of the condition of each child. However, one of the boys was seen alert and talking after the fall.