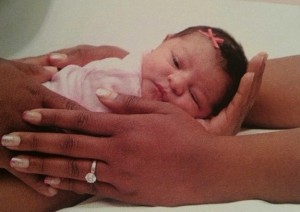 Bride Ties Baby To Wedding Dress Dragging Her Down The Isle. A Tennessee woman has received a slew of negative attention when she decided to attach her newborn daughter to the train of her wedding dress, dragging her down the aisle. Shona Carter-Brooks is proudly defending her decision by saying in a Facebook post that her one month old daughter, Aubrey, was "awake and well secured and covered by Christ."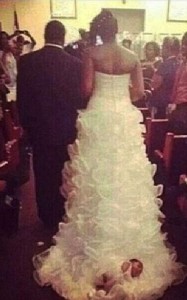 One of Carter-Brooks friends Pamela Stone, said the brides entrance made her emotional and defended her actions by posting this on Facebook, "Shona and Johnathan Brooks your wedding was super perfect from the groom and his men and you and your divas baby you rock the gown and the Princess tagging behind you it brought tears to my eyes. Regardless of anybody else dream yours came true. I loved it and thank you for inviting me." However, not everybody felt that way. Some people think that Carter-Brooks should be reported to child protective services.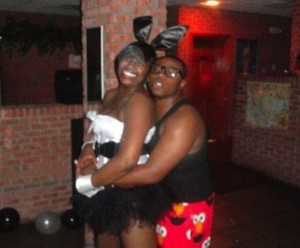 Carter-Brooks posted her thoughts on her Facebook page (please excuse the grammar it is an exact quote). "People questioning what we do, commenting all negative, and just doing the most. We good though we covered by the Blood which never loose its power. So to the media, radio, news, and whomever else want to talk about what we do here you go: media, media I see how it works regardless the situation or purpose people gone have something negative to say! The answer is we do what we want when we want long as Jesus on our side everything worked out fine and gone continue to be fine. Our 1 month old was awake and well secured on my train. Most important while y'all got ya feelings in us we had our hearts in Christ which covers all! So keep ya mouths running for it was just that exclusive and epic enough we made top blog way from small town Ripley, TN and the social media doing what they do, TALK!